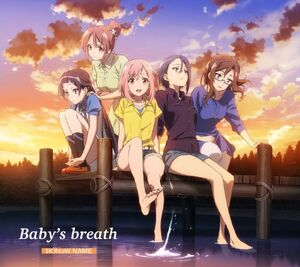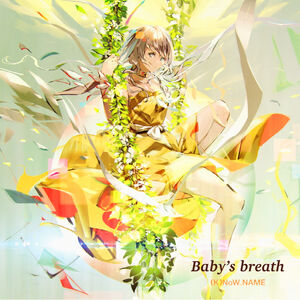 Baby's Breath is the second ending theme of Sakura Quest anime series. The song was written composed and sung by the band (K)NoW_NAME. Its single album is scheduled to be simultaneously released with the ending album, Lupinus, on September 6, 2017.
落ち込んで喜んで繰り返して心が忙しく揺れるの
おもわず弱音を吐いちゃうこともあったり

そんな強くないから
たまには肩を貸してね

any day 選んだ
道が少し遠回りでも
every day ゆっくり
歩いていけたらDay by Day

カバンの中で散らばった荷物を手探りするように
ホントに必要なものって なかなか見つかんない

そんなモヤモヤなんて
知らんふりで陽は昇るんだ

any day 素直に
弱い自分を受け入れたこと
every day 気付けた
背伸びは必要ないって

息づいてる日々の声に
ほら耳を傾けたなら
昨日よりも ほんの少し
優しくなれる
そんな毎日を過ごしていきたいな

any day 手をとって
今日はちょっとだけ遠回りしよう
every day ゆっくり
思い出重ねて ずっと一緒に歩いていこうね

Ochikonde yorokonde kurikaeshite kokoro ga
isogashiku yureru no Omowazu yowane o
haichau koto mo attari

Sonna tsuyoku nai kara
Tama ni wa kata o kashite ne

Any day eranda
Michi ga sukoshi toomawari demo
Every day yukkuri
Aruite iketara Day by Day

Kaban no naka de chirabatta nimotsu o tesaguri suru you ni
Honto ni hitsuyou na mono tte nakanaka mitsukannai

Sonna moyamoya nante
Shiran furi de hi wa noborun da

Any day sunao ni
Yowai jibun o ukeireta koto
Every day kitsuketa
Senobi wa hitsuyou nai tte

Ikidzuiteru hibi no koe ni
Hora mimi o katamuketa nara
Kinou yori mo honno sukoshi
Yasashiku nareru
Sonna mainichi o sugoshite ikitai na

Any day te o totte
Kyou wa chotto dake toomawari shiyou
Every day yukkuri
Omoide kasanete zutto issho ni aruite ikou ne


Please add lyrics if available.